A new Tamagotchi device has seemingly been revealed through European product listings. Called the Tamagotchi Pix, its packaging shows that it has the ability to take photos to interact with your Tamagotchi characters.
April 20 Update: Check out the new trailer for the Tamagotchi Pix!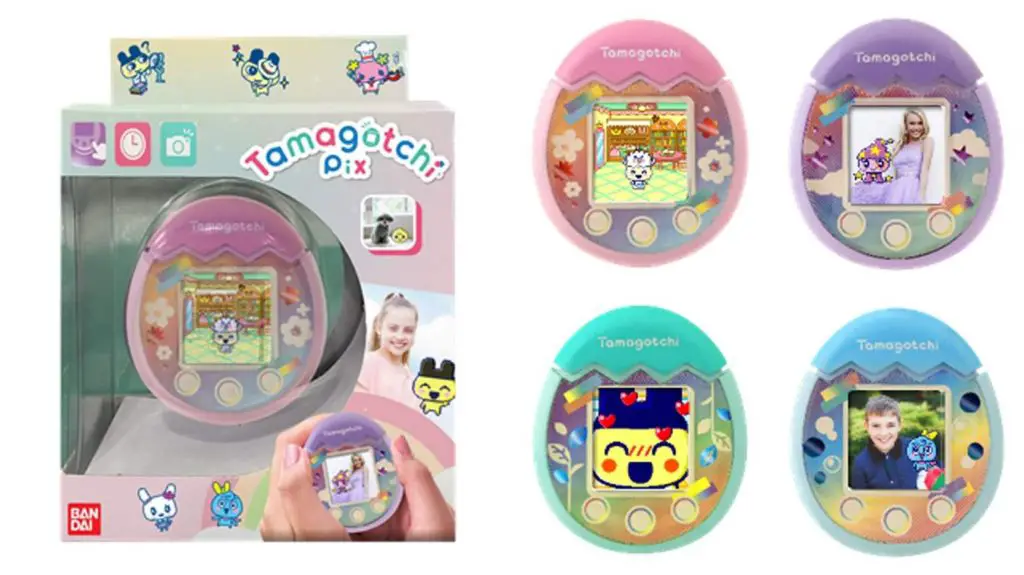 Tamagotchi Pix release date and price
If the Amazon listings are accurate, the Tamagotchi Pix will cost roughly $100 USD (£71.76 GBP) and be released in Europe on August 31, 2021. The Pix comes in four colors: pink, purple, green and blue.
The little animal from the 1990s has evolved. While keeping the basics of the original, the new generation tamagotchi offers more functions, stories and games for fun! A full colour screen, a camera that connects Tamagotchi to the real world and touch buttons. All these new features for more interactions, emotions and fun! Thanks to its integrated social network, the social tama lets you visit your friends, share/liker photos and offer virtual gifts. Accompanies throughout his life by choosing the starting egg (soft, intelligent, creative). Depending on the egg and the activities, he will have a craft in accordance with his life. Tamagotchi Pix available in a range of colours, here in green model.

Product description
Unfortunately, the Amazon pages seem to be preliminary and were most likely put up erroneously before Bandai could actually announce the devices. You can find the green Tamagotchi Pix's listing here (affiliate link).
Patent filing
The design of the Pix is very close to what fans spotted in a European patent filing last year.
No US filing for the device has been found, however. It is currently unknown if it will be released outside of Europe.
Let us know what you think about this new Tamagotchi in the comments below! Special thanks to xoTama0x who helped with the research for this post!