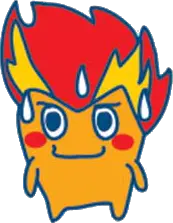 The hot-headed Tamagotchi Atchitchi (occasionally romanized as Acchitchi in official literature) has landed in the Tamagotchi On & Tamagotchi Meets app! He will be available to marry in the Tama Party mini-game for interested female Tamagotchi characters. He'll leave on September 1, so don't wait if you want to M!X with him!
If you're curious, his name is derived from the Japanese word for hot: atsui. It certainly seems like a good way to describe this Tamagotchi!
You may also notice that they have added English below the Japanese for new international players.